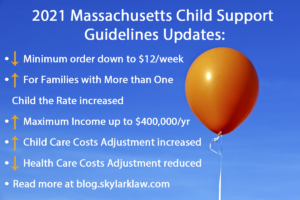 ANNOUNCEMENT: The 2021 Child Support Guidelines were recently released and they took effect on October 4, 2021. We have updated our online calculator below.
An auto-calculating version created in Microsoft Excel is also available for download with a subscription to Gray Jay Endeavors, LLC Massachusetts forms subscription.
schedule a meeting
To download the results on the court form worksheet go to the end of the form and click "Download the form as PDF"
2021 Massachusetts Child Support Calculator
If you're looking for the 2018 Guidelines click here.
Links related to the 2021 Child Support Guidelines:
New Massachusetts Child Support Guidelines (2021): Big Changes, Little Changes, Typos & some Unexpected Results
The 2021 Massachusetts Child Support Guidelines
The 2021 Massachusetts Child Support Court Form Worksheet
All Information related the 2018, 2017 and 2013 Guidelines