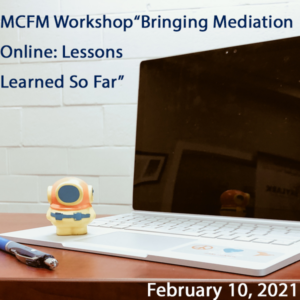 Justin Kelsey will be the moderator for the MCFM Online Workshop – "Bringing Mediation Online: Lessons Learned So Far" on February 10, 2021, at 2:00 PM.
Mediation is flexible by nature, and mediating during a pandemic has been no exception. In order to continue offering mediation, we have all had to learn how to move our work online and the mediation community has stepped up to the challenge. In this program, you will hear about how this shift has affected private mediation, co-mediation, community mediation, and mediation in the courts.
A panel of practitioners from these different forums will share their experiences and the lessons they've learned to help us all improve our virtual offerings to clients.
MODERATOR AND PANELISTS:
Justin Kelsey is a collaborative divorce attorney and mediator at Skylark Law & Mediation, P.C.
Patrice Brymner is an attorney and mediator, providing virtual mediation and collaborative divorce services, from offices in Acton and Southborough.
Josh Hoch has served as a divorce and family mediator and as MWI's Director of Mediation Services for the past 19 years.
Deepika Madan is a mediator, trainer, and the Manager of Mediation Services at North Shore Community Mediation Center (NSCMC).